Your Visiting Ghosts and Goblins Have Quite the History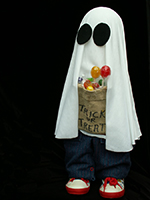 Have you ever wondered why large numbers of kids show up at your door on October 31, dressed in crazy clothing and demanding candy? It does seem a bit bizarre. But while it's always been part of our lives, the trick-or-treat tradition traces its roots way back.
In fact, trick-or-treating is the modern version of several practices that began in ancient times, with indications of both pre-Christian Celtic and Christian traditions:
Celtic: More than two millennia in the past, Celts celebrated the festival of Samhain on October 31. They believed the dead returned to earth on this day and gathered to pay homage to the deceased with food offerings. Some villagers dressed in costumes to drive away unwelcome spirits, and from this grew the tradition of dressing as scary creatures and performing antics for food or drink.
Christian: Once Christianity spread to Celtic regions, traditions blended and new practices emerged. The church declared November 2, All Souls' Day, as a time to honor the dead. However, the October 31 traditions of Samhain, such as bonfires and costumes, continued with the added practice of "souling." In souling, the poor visited the wealthy and received soul cakes for praying for the homeowners' dead relatives. However, when children took up this practice, they asked homeowners for gifts in exchange for their prayers. In some regions, souling became "guising," when guising children dressed in costume and performed tricks to collect treats.
Today, we don't make children perform tricks for their candy. Apparently, looking adorable is more than sufficient.