So you want a free T-shirt
That's it. No catch, no conditions, no hidden clause, no pre-requisites.
Just…do you want a free Page Insurance t-shirt?
We have a bunch left over from events last year and want you to have one.
They're basic black with white letters. Really simple.
Check out the video above.
Okay, so it might be a really thinly veiled way to get you to advertise our business.
Then again, these are quality t-shirts that wear well, and you'll be ready for spring when it comes….or is it here already?
If you're not going to wear it, you can give it to someone you know.
These are in high demand and quantities are limited.
Who doesn't want to support their local insurance agent by sporting their "colors" in the form of a t-shirt?
Just reply to this email and we'll save you one of our Page t-shirts!
You can stop by the office to pick it up.
We'd love to see you!
If you're not in the area, let us know and we can work something out.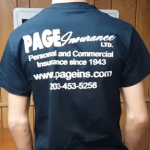 George Page, Jr.
Page Insurance, Ltd
(203) 453-5258 Office
(203) 415-9179 Cell
www.pageins.com