What Newlyweds Need to Know About Insurance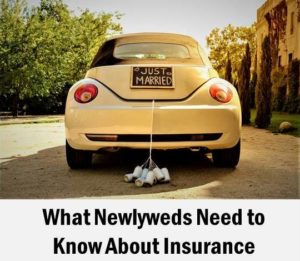 Obviously, as newlyweds, you face many, many big decisions as you begin a life together. But have you considered what changes you may need to make with your insurance protection?
Here are four key insurance moves to consider that can increase your protection and/or save you money.
Tell Your Insurer You Got Married – Married people often get lower rates because they are seen as less risky.
Choose ONE Homeowners' (or Renters') Insurance Policy – If you've been living and paying separately for homeowners' or renters' insurance, one of you will need to cancel coverage when you move in together. The particular policy you keep will cover both of you, but remember to get your spouse listed on the policy. But – you may need to increase your coverage limits if your spouse is bringing jewelry, furniture and/or electronics to the union. High-value items such as wedding rings might need special coverage, called "scheduled personal property". 
Bundle Car and Homeowners' (or Renters') Policies – Get new quotes from your agent and from your spouse's agent to see which can provide the best value. If you both have cars, ask about multi-auto discounts. But make sure that whoever cancels prior coverage – you, your spouse or both – has the new insurance in place on the day the old insurance expires – you don't want a lapse in coverage! Also, ask for a bundle discount if you'll be adding homeowners or renters insurance to your auto coverages.
Life Insurance – If you die, would it leave your spouse or dependents in financial trouble? Or if your spouse dies, would it leave you or your dependents in financial trouble? If so, you need one or more life insurance policies in place.
Getting married is a wonderful and exciting thing to do. But you're not just starting a life together, you're starting a financial life together. Let's visit and make sure you are both properly protected against risk and loss.
What other questions might you have about insurance? We'll be happy to help you understand your options.